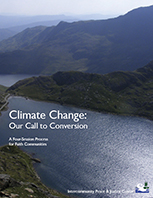 The following songs from Earth Mama recordings have been carefully selected to companion Climate Action discussions and study groups such as The Intercommunity Peace and Justice Center's Our Call to Conversion
These Earth Mama songs parallel many of the insights proclaimed in Pope Francis's Encyclical and Climate Change. The release of the Pope's Encyclical has inspired discussions and study groups. Please pull out your Earth Mama CDs and put them to use for climate action.
Links from each song will take you to a sample where you may listen and purchase a single song or the entire CD for those who do not already have them. Most songs are from Love Large, Around the World, Blessings of the Universe, Pay Attention and Under the Rainbow CDs by Earth Mama. Please contact us for special pricing for study groups for the set.

We'd like to share this powerful message with you from Sister Carmel Bracken of Ireland. This is Sister Carmel's reflection of Paris at the Climate Change Conference in November, 2015: Where the Tides Ebb and Flow
Session One: Earth Community
Session Two: Science of Climate Change
Session Three: Eco-Conversion
Session Four : Emerging Future