Virginia Beach: Good for Mind, Body and Spirit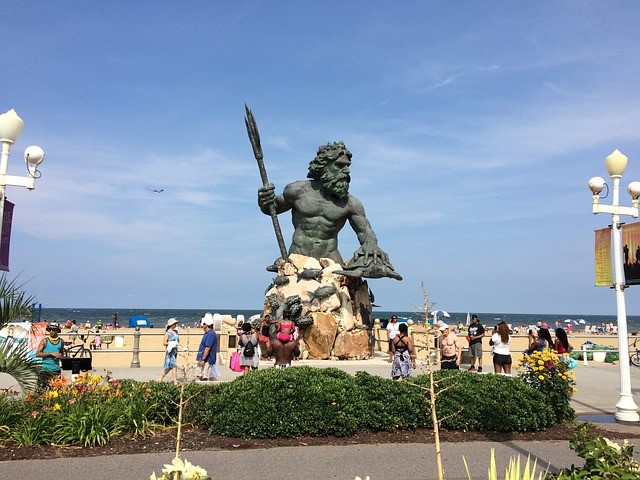 Welcome to this lovely travel story by guest writer, Jennifer Scott, who volunteered to tell her story of rediscovering herself as she discovered Virginia Beach.  
After reading her story please take a tour of Virginia with the Virginia Beauty, A Love Song for the Commonwealth music video.
A few months ago, I was having a tough personal time. A good friend of mine lives in Virginia Beach, and while venting to her about my frustrations one evening, she suggested I make a trip to her neck of the woods. Since I work from home, I quickly accepted her invitation. I hopped on a plane and before I knew it, miles of beautiful, golden beach stretched before me.
Knowing I'm an avid cyclist, one of the first things Paige suggested I do was check out the boardwalk bike path. Since I don't just casually pack my bicycle for every vacation, I got a weekly rental on a bike from Cherie's and set my alarm for the-really-early-crack-of-dawn so that I could watch the sunrise. The golds and oranges of the sky rewarded me beautifully!
My daily ventures to the beach and boardwalk area were wonderful. King Neptune presided over the hundreds of people who filled the beaches and sidewalks; different smells and sounds circled all around me as the warm sun glowed down upon us. It was as if life breathed out from the city itself.
The excitement all around me inspired me to stop just watching and get involved. I decided to push my own boundaries and break personal barriers. I rarely get adventurous with my food which means I'd managed to avoid ever trying shellfish, so one day I walked into Waterman' and ordered a plate of mussels. Of course, they were delicious, and I realized what I'd been missing by limiting myself all these years.
Though I was only using some of my vacation time from work, I still found myself with a lot of free time. A neighbor was going on vacation until my last day in town and, having seen my complete adoration for their lab, Bella, they asked if I could walk her while they were gone. It proved to be a great way to not only get out of the house but to be more social while I was out and about. Virginia Beach is really pet-friendly and everyone seemed more relaxed with their pets around. I even met groups of professional dog walkers and pet sitters who shared their best tips for my outings with Bella.
My last night in town may have been my favorite, a sailing trip. With the wind in our hair and the beautiful ocean view, it was the perfect way to end the trip and say goodbye to the city. I returned home with a refreshed, positive outlook. Virginia Beach did wonders for my mind, body, and spirit, and for that, it will always have a special place in my heart!
Jennifer Scott is a lifelong sufferer of anxiety and depression. She created her website, SpiritFinder.org, as a platform for advocacy on opening up about mental health. Through the site, she hopes to share the types of steps and success stories that can help others realize their own power. When she isn't working on her website, she enjoys traveling, working with animals, and seeking out new friendships and adventures.