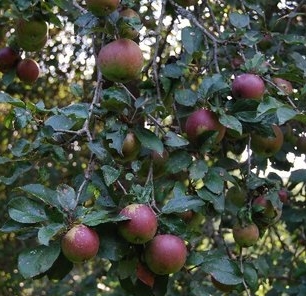 Orchards in Virginia – some history and facts:
One of my favorite apples, the Virginia Beauty, the namesake of my song, is one of the many fruits found in orchards throughout Virginia. The original Virginia Beauty apple tree grew before 1820 in what is today Carroll County in southwestern Virginia.

Serious fruit tree growing in Virginia began with our very first US President, General George Washington. Washington had fruit trees and nut trees transplanted to the orchards on his 8000-acre estate in Mount Vernon, VA. President Thomas Jefferson was also a very skilled fruit tree grower. His home, Monticello, had two orchards, vineyards, berry patches, and a nursery, all known by Jefferson as his "fruitery."

With Virginia's climate ranging from the very cold winters in the Virginia mountains to the warm coastal areas, growing a broad range of fruits, nuts, and berries in Virginia orchards is very "fruitful" when matching fruit to its ideal climate.

Some facts:
* Hundreds of apple tree cultivars, as well as varieties of peach and cherry trees, are well adapted for growing in orchards all over the state of Virginia.
* The Stanley plum tree is very cold hardy and productive in Virginia's cold mountain orchards. Our tree took a vacation last year, so I'm expecting a great crop this year.
* A hardier type of pear is found in orchards in the colder areas of Virginia. Other varieties grow in coastal areas like Virginia Beach.
* Fig trees have been a favorite fruit tree for Virginia gardeners since early American colonists introduced figs from Europe. The Tennessee Mountain fig is the most cold-hardy fig tree and can be grown in all areas of Virginia, especially the Virginia mountains.
* Grapes of many colors and kinds are grown in all parts of Virginia.
* Berries of all sorts – red & black raspberries, blueberries, blackberries- can be found in orchards throughout the state.

Want to pick your own fruit? http://www.pickyourown.org/VA.htm helps you find an orchard near you.
For a directory of all Virginia Orchards: http://www.orangepippin.com/orchards/united-states/virginia