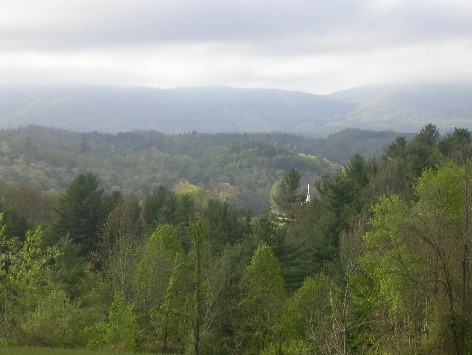 A song I wrote titled "Ribbon of Stone" from my "A Sense of Place" CD,  celebrates the recent 75th anniversary of the Blue Ridge Parkway. It is a mountain folk song honoring the 469 miles of a region and culture "unlike any other on Earth".  As drivers wind their way through the breathtaking forests, hills, and valleys, they hear the sounds of whistling warblers, look out over mist-shrouded mountains, and touch the stitched fabrics of heirloom quilts.

The Blue Ridge Parkway experience is often called "America's Favorite Drive" – just beware of foggy days. The Parkway stretches along the crest of the Blue Ridge mountains through North Carolina and Virginia and includes some of the oldest settlements of both pre-historic and early European settlement. The Parkway protects a diversity of plants and animals and offers opportunities for enjoying all that makes our region so special.
The Blue Ridge Parkway is so many things. It's the longest road planned as a single unit in the United States. It's an elongated park, protecting significant mountain landscapes far beyond the shoulders of the road itself. It's a series of parks providing you access to high mountain passes with a continuous series of panoramic views. It's the product of a series of major public works projects that provided a boost to the travel and tourism industry and helped the Appalachian region climb out the depths of the Great Depression.  
And, its the home of the Blue Ridge Music Center. The Music Center includes an outdoor amphitheater and indoor interpretive center that honor the music and musicians of the Blue Ridge, both of which are still alive and thriving in the region. Live local music is performed daily at the Music Center throughout the summer months. Stop by for an experience that you will thoroughly enjoy.
Watch a Virtual Tour of the Blue Ridge Parkway.
Click here for Parkway information.